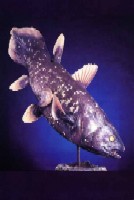 The latest discovery of coelacanths, long thought to be extinct, in South African waters, has led to the formation of a research body that is taking measures to preserve their habitat.
Coelacanths are said to be remarkable fishes and true survivors - having evolved some 400 million years ago. They lived alongside the dinosaurs, and have miraculously outlived the mass extinction of those prehistoric animals. (Photo: East London Museum)
The latest find by recreational divers of coelacanths at Sodwana Bay on the northeast coast of KwaZulu-Natal, just south of the Mozambique border, has led to the development of the South African Coelacanth Conservation and Genome Research Programme.
The programme was initiated in March this year with an expedition using the local ship FRS Algoa and the German submersible Jago, which has done much coelacanth research in the Comoros islands. Sodwana Bay is part of the St Lucia Marine Protected Area, a world heritage site comprising a wetland and a marine reserve known for its reefs and scuba diving.
Until recently, coelacanths remained totally unknown to almost everyone, hidden in the depths and in underwater caves. Only fishermen in a few remote locations, such as the Comoros and parts of Indonesia, had seen them before until one was discovered off East London in the Eastern Cape in December 1938. Since then, they have been found in other places in the Mozambique Channel, and in Sodwana Bay, South Africa. Inhabitants of the Comoros have for many years used coelacanths as food, preparing the meat by drying and salting it.
Support for the coelacanth programme has come from several sources, notably the South African and German governments. The South African Institute for Aquatic Biodiversity is managing the three-year programme, together with a number of universities and research institutions in South Africa and the SADC. Mozambique, Madagascar, Tanzania, Comoros and Kenya have been invited to participate in the programme as SADC partners.
Researchers involved in the programme hope that expeditions to find and monitor the coelacanths in the Greater St. Lucia Wetland Park will teach them more about the coelacanth and its biology and this will be important for its conservation. Researchers are thus eager to determine this species' needs, what factors may threaten it, and also what other organisms are in the area - organisms which may be as rare, or vital to its survival.
Coelacanths are an endangered species, listed in CITES Appendix one (aka the Red Book). They spend the day resting in underwater caves between 300 and 700 Ft. deep and come out at night to feed. Reported to be the last of the lobe-finned fishes of the Devonian Period, 350 million years ago, coelacanths have often been referred to as living fossils because they have a number of anatomical peculiarities only found in fossil fish.
The modern coelacanth closely resembles its fossil relatives, having paired, lobe-based fins and a three-lobed tail. Its body varies from bright blue to brownish in colour and it reaches a length of about 152 cm and a weight of more than 68 kg.
Today it is believed that there are in the region of 200 coelacanths off the west coast of Grand Comoro Island, and we await the findings of the research programme to learn how many are surviving in South African waters.