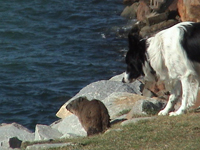 A fierce resident rock rabbit (aka 'dassie' in South African English, or 'cony' in standard English) and an English sheepdog are continually at war, having 'staring out' competitions almost daily. The dassie lives on the rocks at Port St Francis, St Francis Bay,on the Eastern Cape Coast .
But at this same private Port there's also a self-appointed guard dog called Levi, who won't let any other dogs or animals near the Port, where his owners work. If they do venture on his territory then he goes for them and gives them an awfully sharp nip.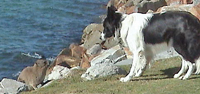 He simply hates the dassie and the pair challenge one another continually, with an ""I dare you to go for me!" attitutde.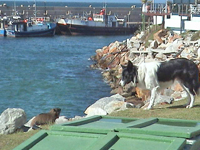 They gaze at one another eyeball to eyeball. And then finally after a long spell, Levi goes for the dassie. This vicious dassie is, however, always far quicker. It charges under Levi and ends up biting the poor canine where it hurts the most.