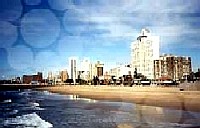 Durban, one of South Africa's top coastal cities, gives Cape Town (Kaapstadt) a run for its money during the festive season, with more than a million tourists alighting on its shores.
Durban offers not only the sun and beaches, but also entertainment galore - from beach festivals, to ocean marathons to cruises on the bay.
According to Tourism KwaZulu Natal, local and foreign tourism to the province increased over the festive season last year with improved figures. This has in part been attributed to the decline in the local currency (the Rand) against overseas currencies.
Beaches last year were busier than previous seasons and this port rallied to the influx by creating a buzz of cultural festivities and many forms of amusement. Every December a long list of exciting events are planned to enable visitors to this coastal resort to enjoy their stay. Holidaymakers can expect to take in several music festivals, while on the beaches alongside the hordes of bronzed bodies, there are bound to be sporting activities, such as national volleyball matches, touch rugby, and beach soccer.
And in the evenings there will be beachside festivities, crowded restaurants and chock-a-bloc pavement cafes and undoubtedly carols by candlelight. Even the local dolphinarium presents events like Carols and Dolphins by candlelight
But for those who don't like the throng, the beaches to the north or south of Durban are perhaps more inviting. Places like Port Shepstone, Margate or Umhlanga Rocks and Ballito always attract big crowds and offer plenty of holiday enjoyments. Way up north is St Lucia, a coastal town with vast wetlands, and an abundance of wild life, while even more north and slightly quieter or more pristine are Sodwana and Kosi Bay, near the Mocambique border. Close to these northern resorts are numerous private game reserves for safari lovers.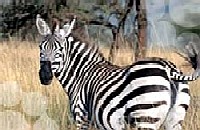 The largest and most popular in the area is the national Hhluhluwe and Umfolozi game park, where one can view the 'Big 5' game (elephant, lion, leopard, rhino, and buffalo), plus private game reserves. In addition KwaZulu-Natal is home to the largest concentration of black and white rhino in the world. Around these areas one can watch traditional Zulu dancing, listen to anecdotes of the history of Shaka Zulu and the mighty Zulu kingdom, or for the adventurous, even taste traditional Zulu fare and sleep in a Zulu hut overnight.
The St. Lucia Estuary is the largest natural estuary and lake system in Africa, populated with over 800 hippo, 2000 crocodiles, 150 different sea fish species, water birds, fish and micro-organisms. Lake St Lucia has an average depth of two metres and is a paradise for numerous bird species - more than 411 species - and 150 different fish species.
Aquatic birds such as flamingo, pelican and fish eagle are regular sights, while large shoals of fish and even sharks frequent the estuary for breeding purposes. Besides bird and animal watching one can take an estuary trip on the luxury river Boat, the Santa Lucia, lasting two hours, to see hippo, crocodiles and birds in their natural habitat.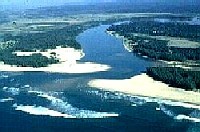 Nearby a day's snorkelling can be enjoyed at Cape Vidal beach where beautiful fish and plant life abound. After the spectacular boat cruise the tour continues to the Crocodile, Snake and Cycad centre. Here guests encounter African crocodile species (The Nile crocodile, Long snouted crocodile and the Dwarf crocodile). For comparison there are also American Alligators. The crocodiles on display range from hatchlings to specimens of up to four metres long.
Visitors travelling north will be left breathless by the unspoilt beauty of the rugged beaches and lush, undulating hills of Northern KwaZulu-Natal. The coastline is known as the Dolphin Coast because of the vast number of dolphins seen frolicking and surfing in the azure waters of the warm Indian Ocean.
Photos courtesy of Durban/KwaZulu-Natal publicity associations