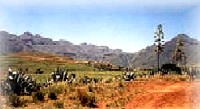 The magic of the north-eastern Free State, bordering Lesotho, captures the souls of artists with its natural palette of greens, ochre, mustard yellow and iron-ore black.
Writers, painters, scholars and photographers are spellbound and inspired by the beautiful surroundings and indigenous architecture. Here travellers contemplate the origins of 'dorps' (Afrikaans for rural hamlets), marvel at southern Africa's traditional Sotho dwellings and taste the local food.
The cinematic beauty of this area, its geography unscarred by industrialism, is just over two hours drive from Johannesburg and starts as soon as one sees the Maluti mountain range in the independent country of Lesotho. Here the landscape contrasts with the rest of the mostly flat, monotonous countryside of the kidney-shaped province of South Africa.
The Free State lies between the confluence of the Vaal and Orange Rivers and the steep Drakensburg and Maluti mountains in the east.
The north-east has a dramatic backdrop of the Maluti mountains across the Caledon River and ancient ridges of sandstone mountains layered in orange, yellow and gold. The most well known and beautiful part is the Golden Gate.
The little towns or 'dorps' with quaint old-fashioned houses huddle around huge Calvinist sandstone churches and the small town of Fouriesburg is a prime example of this. Most of the churches still have vacant plots alongside them, which used to accommodate ox wagons in times gone by but are now used as car parks.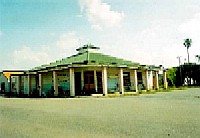 The houses and even many shops are festooned with gables and large verandas supported by brick pillars. Dotted on these verandas inhabitants string out strips of dried beef seasoned with coriander, as this after all is 'biltong' country. (Biltong is the local word for this snack and delicacy).
The area has a climate of extremes with a summer heat of more than 40 degrees and sub zero temperatures in winter. In summer locals keep houses cool by drawing curtains closed in the middle of the day while in winter months when the Maluti mountains are covered in snow large log fires glow warmly in doors.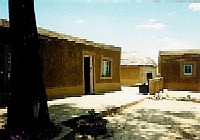 The farmland countryside is etched with indigenous, earth-coloured Sotho (shortened word for Basotho tribe) houses that like anthills form part of the landscape. These clusters of houses have a typical peasant-type architecture with mud walls, which cracks and dries in the harsh African sun.
Traditionally the Sotho pray for rain, abundance and peace by painting and slicing brilliant geometric murals on the mud and if their prayers are successful, the rain comes and washes away the paint. For them this suggests new beginnings.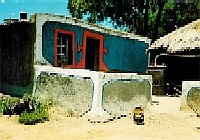 The finely textured mural art consists of simple designs or symbols, such as plants and flowers or animals. Sadly, these timeless images are under constant threat of urbanisation as farmers, on whose land many Sotho reside, replace traditional Sotho dwellings with shoebox shaped designs that are plastered and electrified.
While westernisation is taking over African tribal life, even in the food and drink they consume, many Sotho (and other African tribes) still eat a traditional fare of mealie (maize) meal porridge cooked very thick and known as 'pap' and this is served with milk and sugar or a stew of either meat, thick gravy or vegetables. Pap is traditionally cooked on a three or four legged cast iron pot over a fire. The traditional drink is a kind of mazie corn brew, which is drunk out of a calabash and the friendly villagers are not averse to letting foreigners sample their meals, or even letting 'outsiders' sleep overnight in their huts.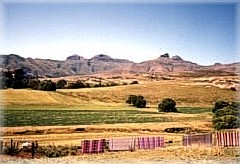 The north-eastern Free State is also known for its kaleidoscopic seasonal beauty, its splendid and indigenous grass aromas (red grass and sweet grass) its blue skies and yellow fields, its vivid sunflowers and fields of golden-yellow, ripened maize.
Bird fanciers are entertained by a variety of birds. The most common bird sound is that of the dull brown water bird, the 'hamerkop' (hammerhead), with a large backwards projecting crest and conical shaped black bill that has a characteristic nasal 'weck…weck …weck' in flight or at rest.
Large flocks of guinea fowl in grasslands and on farmlands are fascinating with their white spots on black plumage and their blue necked and red capped heads with a horny cascade. Visitors can also catch a glimpse of the carnivorous, bearded vulture with its wedge-shaped tail while in flight to its roost high on inaccessible cliffs. Protected and localised here, the 'lammergeier' (as it is known locally) differs from all other vultures owing to its loosely feathered head and legs.
There are many bed and breakfasts and self-catering establishments for travellers. Various hikes, on foot, bicycle or on Basotho ponies provide a popular pastime.
En route hikers can perhaps spot white rhino, black wildebeest, mountain zebra, and various antelope, such as the Oribi and South Africa's largest antelope, the stately and elegant Rhebuck or witness the remains of prehistoric life and fossilised trees in the hills outside towns like Senekal and Paul Roux. There is also the enclosed Golden Gate Park, where one can see wild animals from the safety of vehicles.
Besides hiking there are annual festivals, such as, the Cherry Trail when orchards are bright with the scarlet berries, the asparagus festival and the Roof of Africa 4x4 Rally.
And last, but not least for gourmets there are also a host of local Afrikaans delicacies to wet the taste buds and one can have feasts of venison at traditional barbecues and sample pancakes, vetkoek (a fatty bread) and various rich pastries like koeksuster and milk tart.
Writing and research: Cheryl Stevens. Editorial: Bev Mortimer.
Photos copyright: Cheryl Stevens