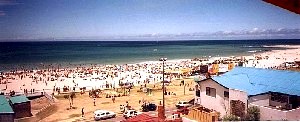 Jeffreys Bay in the Eastern Cape of South Africa is not only a surfer's paradise where surfers from around the world come to catch that perfect wave, but with its beautiful, unspoilt beaches and almost endless summers this coastal town is a superb holiday resort with myriad attractions.
The sunny shores offer rock pools, safe swimming spots, sailing, fishing, wind surfing, rock angling, snorkelling, whale and dolphin watching, shell collecting, sand-boarding or hang-gliding, while other summer sports such as, hiking along nature trails, golf, bowls and tennis are also available on its doorstep.
Named after a store owner who provided victuals to seafarers in 1849, Jeffreys Bay, aka J-Bay, was initially a quiet, undiscovered fishing village until in the 60s some surfers found tubular nirvana and since then this town has come to be known as South Africa's hottest surfing spot. In fact the community is driven by surfing, fishing, property development and tourism. Surfers flock to J-Bay for one of the world's greatest contests - the Billabong - in July (South Africa's winter month) when the waves are at their best and test their skills riding the perfect barrelling walls of Supertubes, Tubes and the Point - the three main surfing sections.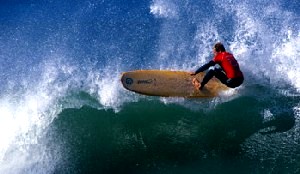 Then in the summer months the town is packed with holidaymakers accommodated at caravan parks, campsites, self-catering chalets, Bed & Breakfasts and hotels, all a stone's throw away from the beaches.
This lovely resort is where I spent Christmas and saw the New Year in - having a son, who is an avid and talented surfer. I was fortunate to stay in a lovely old house, two short blocks to the shore.
The average temperatures this holiday season have been between 25° - 33 with variable land breezes - from gentle winds to sandy gales on one or two days.
Apart from its attractions and being at the centre of the 'white gold' (calamari) and squid industry, J-Bay has other treasures, which I found each morning to my delight - the high tides at night deposit on the beach a sparkling carpet array of shells, including cone, nautilus, cowrie, conch, harp and pansy shells - a boon for collectors. Plus there's a superb shell museum with some real gems on display in the business district.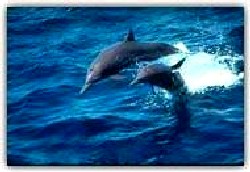 Another favourite for me was to occasionally catch schools of dolphins dancing in the waves alongside the surfers, streaking in and out like great grey torpedoes, and often joined by whales and seals or noisy gulls swooping and diving from above.
And for bird lovers, like myself, the numerous river mouths and estuaries, such as the Hippo Valley, dubbed Seekoei Vallei by Afrikaners, are havens for many populations of wild birds - fish eagles, cormorants, flamingos, sea gulls, shrike, red knobbed coots - to name but a few of the more than 120 bird species. This reserve houses a penguin rehabilitation centre which cares for injured penguins washed ashore on Jeffreys Bay beaches - notably the jackass, a flightless penguin highly susceptible to oil pollution. In addition several offshore islands provide breeding populations for marine birds and mammals.
This whole region around J-Bay, known to locals as the Kouga, is said to be the birthplace of Modern man. The earliest records of Homo sapiens are found at a cave a few kilometres west of the Tsitsikamma (plenty of water) River mouth. These 120 000 year-old remains are more than 60 000 years older than those examples of Neanderthal Man that have been found in Europe. The area was also once home to indigenous Hottentot, Khoikoi and San people who once roamed the coastline.
And if J-Bay and evirons isn't enough one can take a trip to the Addo Elephant Park and other wild game sanctuaries in the Eastern Cape to view the 'Big 5' game (elephant, buffalo, rhino, leopard, lion), more coastal resorts and the lovely Tsitsikamma forest with age old yellowwood and other indigenous trees - all combining to make one's visit to the area memorable.
Read more about JBay:
http://www.allafricabackpackers.com/links.htm
http://www.infojeffreysbay.com/links.htm
http://www.infostfrancisbay.com/links.htm
http://www.dolphin-view.com/links.htm
http://lynx-tours.com/links.htm