Home
Articles
St Francis Chronicle
Headlines
Links
Feedback
Link to us
Free update
About us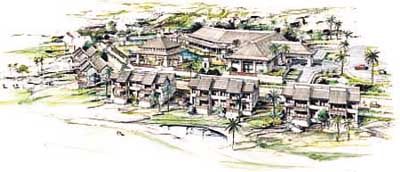 Development of the R1.5-billion St Francis Links, the prestigious golf estate for St Francis Bay, in the Eastern Cape of South Africa, is forging ahead with its driving partners aiming to create one of the 'best golf estates'. This golf estate is set to rival, if not surpass, the likes of Fancourt and other top golfing estates worldwide and will be designed to attract this planet's top golfers.
Top Isle of Man financiers eyed this estate last year for possible purchase, however, three companies this month formed a joint venture to develop St Francis Links: WBHO (Wilson Bayly Holmes-Ovcon), a highly successful JSE-listed company, Golf Data, one of the top developers of superior golf courses in South Africa, and Bay Estates, a property development & sales company, set up two years ago to market and administer The St Francis Links Golf Estate.
"St Francis Links will be one of Golf Data's highest expressions of what golf courses should be like," says Lionel Donnelly, principal of Bay Estates. St Francis Links will comprise an 18-hole golf estate, a 60-bedroomed luxury hotel, 120 golf chalets and 400 houses on a 400 ha, prime site, zoned as a golf residential site. Last October offshore Isle of Man investors made an offer to purchase the estate.
They were intending to get Britain's Prince Andrew, currently President of the Royal and Ancient, to endorse the design. Their intention was to develop a 'signature' Links Course to be associated with 18 other Links courses around the world to which future purchasers in the St Francis Course would have reciprocal membership. However, they were unable to come to timeous, satisfactory agreement and the three companies have now taken up the reins.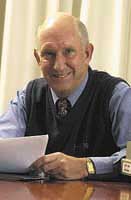 WBHO, (under the chairmanship of Mike Wyllie, seen left), will be in charge of building high quality brick-paved roads, internal services, the Club House, Golf Course chalets and the Hotel, plus the construction of a reservoir. St Francis Links will be making a substantial financial contribution to the upgrading of the Churchill pipeline to ensure there is enough water in this area. WBHO, one of the leading forces in construction in Southern Africa, is principally involved in building construction, civil engineering, roads and earthworks and township infrastructure.
The driving force behind the company is a core of dedicated, hands-on management professionals whose experience spans decades of major construction projects in Southern Africa, The Middle East and the Indian Ocean islands. WBHO is currently working on the construction of the village at the Oubaai Golf Estate, George.
According to WBHO's last financial results, the company again produced commendable results - its ninth consecutive year of increased earnings. Headline earnings increased by 28.5% to R62.75 million on an increase in turnover of 30%. Headline earnings per share grew from 88 cents per share to 113 cents per share. The company recently acquired Stocks Civils and Port Elizabeth company, MacDonald Construction, and Probuild Constructions in Australia. Despite the cost of acquisitions and increased working capital requirements of civil and over border contracts, the company's bank and cash balances showed only a slight decrease of R6 million to give a year-end balance of R209 million. The company also improved its position in the Business Report Annual Growth Awards in 2001. Out of all the companies listed on the JSE, it achieved 4th place in growth in earnings per share and 5th place in growth in turnover over the last five years.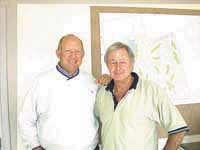 Golf Data, established in 1989, by Robbie Marshall, has successfully designed, constructed and re-constructed most of South Africa's top golf courses and estates, including Atlantic Beach Golf Estate, Leopard Creek Golf & Country Club, Pearl Valley Golf Estate & Spa, Pecanwood Golf & Country Club, Pezula Championship Course, Simola Golf Estate and The Country Club Johannesburg. It is now able to offer the exciting golfing estate development opportunity in St Francis Bay. (Photo: Robbie Marshall, left, with Lionel Donnelly)
Boasting a comprehensive range of specialised services and driven by experienced professionals, Golf Data is continually raising the standards of golf course design and construction. In 1995 Nicklaus Design appointed Golf Data as its official Southern African representatives.
With the objectives of providing world-class golfing facilities and a firm commitment to environmentally sensitive planning and development, Golf Data prides itself in being awarded contracts to develop golf estates in some of the finest and most sought after real estate portfolios. Golf Data says it is "proud to be associated with the leaders in the golfing industry as it pursues the refinement of one of man's finest recreational pastimes - the game of golf."
Lionel founded and incorporated Bay Estates in December 2001. He has been involved in property in the St Francis area for more than 20 years and has been the driving force behind the prestigious St Francis Links. Bay Estates, the marketing & sales control centre will be selling plots nationally and internationally, at prices ranging from R370 000 to R2.5-million from June this year.
Lionel says a 'gentleman's estate' will surround the golf course and the entire estate will be fully enclosed with perimeter security fencing; a sizeable area of the estate will be left for nature trails. The houses and chalets will conform to the traditional white walled thatch-style with large 'plantation' verandas. The hotel will be an international-style hotel aimed at enticing overseas visitors.
Lionel states that St Francis Links is currently awaiting Records of Decision from the Department of Environmental Affairs and Tourism (DEAT) and it is intended to launch the development on receipt of all approvals. He adds that local labour will be used in the development of the estate and the golf course, thus contributing to meaningful job creation.
Sponsored by:
Travel For Less - anywhere, anytime - even last minute!
Great deals from leading airlines, hotels and car rental companies. Fast & Easy!
Decorating made easy! Lowest prices in the USA!
Blinds, wallpaper, lighting, rugs, and more! Free shipping, satisfaction guaranteed! www.DecorateToday.com
Subscribe to USA Today and get four weeks FREE!
The nation's most comprehensive news coverage delivered to your door. www.USAToday.com
Get your History videos, DVDs & gifts here!
Own your favorite Biography or War videos. Wild West, Politics, and more! www.HistoryChanom


Your message could be here! Please contact us....


We hope you enjoy this site. We aim to update this site with a new feature each week so please keep visiting. If there is anything else you would like to see here, please let us know.
Read more about life in St Francis. Read St Francis Chronicle