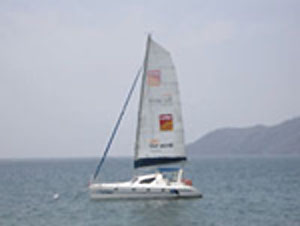 If you enjoy the Indian Ocean Islands as a holiday destination I urge you to consider a trip to Malawi....
A two-hour flight out of Johannesburg, Blantyre is very much a potpourri of Africa. High rise buildings surrounded by colourful African markets selling absolutely everything from the top 20 CDs to a freshly slaughtered chicken!! As with most African cities a cacophony of sound greets you, along with a very friendly, relaxed population.
I was collected in an air-conditioned top of the range BMW 4x4 and had an exciting drive out to Cape Maclear and Danforth Lodge. The two-hour drive seemed to take no time at all with offers of cold drinks, snacks, and a running commentary on the scenery, local legends, etc!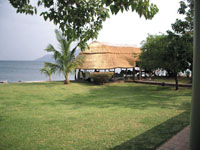 On arrival at Danforth the friendly and relaxed owners, Michelle and Howard escorted me to a luxurious, air-conditioned bedroom leaving me to freshen up with a very cold drink and offers of more just a call away! An excellent dinner was served to guests on the porch, preceded by drinks (an honesty bar is available) and a sing along with the very talented Howard and Keith on guitar. Chatting, dancing, singing well into the night - finally we toddled off to bed, happily exhausted and looking forward to the mornings promised outing on their luxury 38 ft Cat, Mufasa.
After wakening to the chatter of birdsong and scenery, surely from heaven itself, we were served breakfast in the lapa just metres from the shore. The enthusiastic Howard whisked us off to Mufasa for a morning snorkelling and swimming in some of the many bays dotting the shore.
Lake Malawi is a divers paradise, clean and beautiful with many varieties of fish to exclaim over. many varieties of fish to exclaim over. Lunch over, we gathered on the porch to watch the Blue Bulls take the Cheetahs in the rugby final. Michelle and Howard backing opposing teams she had taken advantage of the morning to decorate the area with messages of support for 'her' team, the Cheetahs! Unfortunately this was of no help to them as they were soundly beaten by the Blue Bulls amid much laughter from the crowd.
Freshly caught fish was barbecued for dinner that evening, we ate just metres from the shore and thoroughly enjoyed the cool breeze off the water and the gentle lapping of the waves. Sing-alongs, great wine, fun, laughter... finally we were packed off to bed amid thoughts of the mornings promised scuba dive!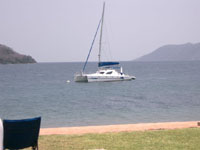 Sunday dawned as beautiful as all the days before - did I mention that perfect weather is almost guaranteed, 365 out of 365? Dusty and Andrew, the very well qualified scuba instructors were already set up and after a hearty breakfast spoke everyone through what would be happening on the mornings dive. The learner divers took to the water and spent a couple of hours teaching us the ropes; deep dives were organised for the afternoon. All returned to the Lodge, tired out yet glowing from the exercise and a skill newly acquired!
Freshened up and rested, we went off on Mufasa for a booze cruise around the islands that abound the lake. A wonderful Sunday roast greeted us on our return, also the porch had been cleared for dancing - did I mention that Howard and Michelle are soon like 'old friends' and enjoy every minute of your stay!!! - We all partied till the wee hours under the wonderful bright Malawian moon...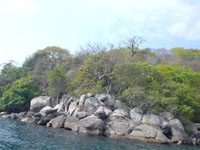 Alas Monday! An early start had us driving back into Blantyre and the flight back to SA. On my arrival back home I was touched to find an email from Michelle telling me how much they had enjoyed my company over the weekend, which pretty much explains their magic touch. Howard and Michelle love people and you and your partner will have the time of your life up at their Danforth Lodge!
So give a thought to having a holiday of a lifetime or just a break under a Malawian moon! Join Howard and Michelle at their fabulous Danforth Lodge on Lake Malawi and learn to sail (accredited re also available, with the highly qualified Andrew and Dusty on hand to assist.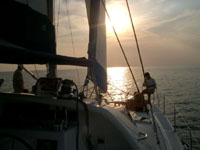 Danforth is an absolute haven of relaxation and understated luxury - excellent cuisine provided by the luscious Margie and total pampering from the staff ensure that you and your partner will have the absolute time of your life. Scuba lessons are also available, with the highly qualified Andrew and Dusty on hand to assist.
Contact Danforth Yachting at (+265) 9960077 or email at danforth@malawi.net. The airfare, AirMalawi, from Johannesburg to Blantyre return is from R2 657,00 for 6 day to 1 month stay. Reasonable considering that the Indian Ocean Islands are from about R4 500 usually.