Home
Articles
Headlines
Links
Feedback
Link to us
Free update
About us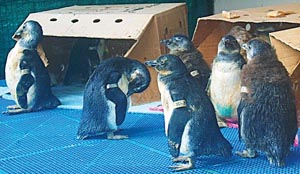 In a life saving mission 18 starving baby penguins were removed from St Croix island near Port Elizabeth last month and delivered to the Penguin EC Rehabilitation centre at the Cape St Francis Lighthouse.
The penguins were extremely undernourished and underweight through lack of food. They were brought to the CSF facility by Lloyd Edwards from Baywatch Conservation to be stabilised, fed and await the growth of their feathers until they are able to swim in the ocean and fend for themselves in about two months time.
Hopefully they will fare better than their parents who were unable to find enough fish to sustain them on St Croix that lies 22 km north-east of Port Elizabeth. Sardines and anchovies make up the main diet of penguins and there is no doubt about the scarcity of these fish, considering the numbers of starving penguins at St Croix.
"This is a signal that something is wrong and no one is listening," says Trudie Malan, media liaison at Penguins EC, echoing University of Washington conservation biologist, Dee Boersma's statement that these flightless birds serve as sentinels for a radically changing environment.
Alarms sounded by Boersma herself resulted in huge headlines and coverage in the US top newspapers and news shows late last year..
"Like the proverbial canary in the coal mine, penguins are sounding the alarm for potentially catastrophic changes in the world's oceans and the culprit isn't only climate change," she said. "Oil pollution, depletion of fisheries and rampant coastline development that threatens breeding habitat for many penguin species (along with Earth's warming climate) are leading to rapid population declines among penguins."
She provided some alarming statistics of the penguin population decline - African penguins decreased from 1.5 million pairs a century ago to just 63 000 pairs by 2005, to 37 000 in 2008 (and to 28 000 in 2009). These figures have been repeated by experts in South Africa, notably Dr Lorien Pichegru and Prof Peter Ryan whose studies have revealed that African Penguin numbers at breeding colonies have halved since 2004, threatening to classify them as endangered. In a paper entitled No take for African penguins Dr Pichegru says this is presumably linked to an eastward shift in the distribution of anchovy and sardines away from the main colonies on the west coast.
She points out that the reduction of their population has taken place when the abundance of sardine and anchovy has also dropped substantially - suggesting that scarcity of food is playing a role.
"Indeed, African penguin survival and breeding success is tightly linked with sardine and anchovy availability. The purse-seine industry is targeting sardines and anchovies thus competing with penguins for the same prey."
She recounts the example that that since most fishing plants are located along the west coast, heavy fishing pressure was exerted in an area of low abundance of fish. Therefore, the density of food around colonies was reduced to very low levels. "High mortality of penguins and almost total breeding failure of Cape gannets on west-coast colonies ensued ever since."
Quoting the United Nations Food and Agriculture Organisation (FAO) warning of the depletion of fish stocks, she says many populations of marine top predators (such as pinnipeds, cetaceans, seabirds and sharks) suffer the consequences from long-lasting exploitation of the sea's resources by humans. "These predators play a central role in the stability and resilience of ecosystems and the cascading effects of their loss can de-structurate entire ecosystems.
"They are threatened through direct fishing, mortality caused by fishing gear and via direct competition. Active protection of their habitat is thus crucially needed."
An Oceana study in the US entitled, Hungry Oceans: What Happens When the Prey Is Gone, focuses on three threats to the oceans' fish: most small prey or forage fish are being caught at maximum levels or over exploited; overfishing of prey species is unregulated, including immense stores of squid and krill; whole schools of fish that feed tuna, whales and other long-lived animals and drive migrations are caught in nets particularly by industrial fishing vessels.
This study found that fish farms are also driving the need for small species, which are turned into oil or feed. They use more of the ocean's protein than they produce. An estimated 4 to 11 pounds of prey fish are consumed to grow 1 pound of farmed salmon. In addition climate change and global warming can affect the timing of life cycles.
Dr Boris Worm, another prominent US marine biologist believes global fishing could be virtually wiped out by 2050 if drastic changes are not made in sustainable fishing practices. He says ocean ecosystems have reached a limit where humans are taking too much out of oceans while dumping too much waste back into them. "Overfishing is the largest single impact on marine ecosystems today and is spreading from coastal areas to the deep sea."
According to 'The Crisis of Marine Plunder in Africa', a report published in 2007 by the South African Institute of Security Studies (ISS), poaching and over-fishing off southern and eastern Africa has become so extreme that permanent damage to the marine environment appears imminent. The ISS report conservatively estimated that illegal, unreported and unregulated fishing in Africa had become a US$1 billion a year industry. In Mozambique alone, illegal fishing in the tuna and shrimp industry was set at approximately $38 million.
"There are strong reasons to suspect that abundant fish stocks and marine bio-diversity situated in the Exclusive Economic Zones (EEZ) of African countries are threatened and in the not-too-distant future several African countries will face the depressing reality of collapsed fisheries and the permanent degradation of their marine environment. This in turn will continue to adversely impact on food-security and economic development, with coastal communities dependent on fishing being the hardest hit. "
The ISS report maintains there is recognition that illegal fishing by large-scale commercial fishing companies is a threat to Africa. Illegal fishing also involves excessive waste and harmful fishing techniques that have a devastating impact on the environment. The ISS report says fishing boats catch large amounts of unwanted fish (aka trash catch) which are dumped at sea. As an example, it says shrimp trawlers land, on average 10kg of 'trash catch' for every 1kg of prawn. Contained in this by-product are roughly 400 species of fish and marine life, including endangered species such as turtles.
Rudi Van Der Elst of the KwaZulu Natal Oceanographic Research Institute (ORI) points out that the world's total marine fish catch has peaked at about 95 million tons per annum while industrial fleets of the world are operating at an annual loss of some US$ 54 billion. "Nine of the world's 16 major fishing zones have been declared 'overfished' by the FAO and of the 200 most valued species, some 60% are now being fished at, or beyond, levels of sustainability."
A further disturbing trend, Van Der Elst says, is the progressive change in species composition of world fish landings. In the 1950s the bulk of the global catch was made up of some 50 species of fish. Now more than 600 species constitute the world's catch. "So the number of potential new species will eventually run out and only depleted species will remain."
South Africa has not been immune to these disturbing trends, Van Der Elst says. In 1964 only 17 species of marine fish were reported in national landings; today there are at least 51 species involved.
Boersma reinforces this by saying as the fish humans have traditionally eaten becomes scarcer, "we are fishing down the food chain and now we are beginning to compete more directly with smaller organisms for the food they depend on."
Margot Stiles, author and Oceana marine biologist, sums up by her view that the loss of forage fish from the ocean harms a range of species, resulting in malnutrition, death of offspring or disruption in migration and breeding patterns. "These fish may be small but they do all of the work in the ocean and are the foundation of the food web. Without them we would lose the things we really care about - the seabirds, whales, tuna and salmon."
Glimmer of hope for penguins...
St Croix and Dassen closed to fishing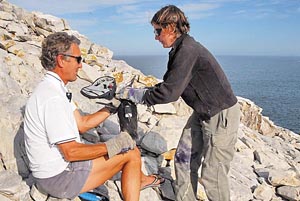 In finding possible solutions to the problems highlighted above the ISS report says much infrastructure and finance are needed for things like patrol boats, aerial surveillance, vessel monitoring systems, proactive investigations and efficient auditing of the fishing industry. "The causes of illegal fishing and potential solutions lie with international and geo-political factors."
But now South Africa has initiated a unique experiment which could not only protect penguins but also prove a point or two about over fishing.
South Africa's Marine and Coastal Management has closed, in a 20 km radius-area, the waters around two breeding islands to purse-seine fishing for two years. The performance of penguins breeding at these two islands, Dassen and St Croix, will then be compared with adjacent colonies on Robben and Bird Islands where fishing will continue unrestricted.
Calling it a milestone in the creation of protected areas for top predators Dr Pichegru says the experiment will test whether breeding birds can improve their numbers and success. "Because penguins are charismatic, economically valuable, and show a restricted foraging range during the breeding season, this unique experiment will test whether by closing areas to competing fisheries in the foraging areas of breeding birds, can help in the recovery of their population.
"If limiting competition with industrial fishing in key areas for breeding predators, such as their foraging habitat during the breeding season, is proven to help in the recovery of their population, the results of this experiment will facilitate the creation of more Marine Protected Areas for predators all over the world, a great step towards the active protection of threatened top predators."
Pichegru says Marine Protected Areas are known to help in the recovery of fish populations and benthic organisms. They are even believed to be the only future possible for sustainable fishing.
"The global population of African penguins has now been forced to the lowest level yet recorded. Reduction of pelagic fishing activities within the foraging range of breeding birds might therefore increase food availability to the birds and hence improve their reproductive success."
The settlement of the closed fishing experiment is made possible through the support of the South African purse-seine fishing industry, the South African government and the Dyer Island Conservation Trust. There are also contributions from research institutes such as the Percy FitzPatrick Institute of African Ornithology and the Animal Demography Unit at University of Cape Town, the Norwegian Centre for Ecological and Evolutionary Synthesis, the French National Centre of Scientific Research and the help of South African National Parks and Cape Nature Conservation.
Sponsored by:
Travel For Less - anywhere, anytime - even last minute!
Great deals from leading airlines, hotels and car rental companies. Fast & Easy!
Decorating made easy! Lowest prices in the USA!
Blinds, wallpaper, lighting, rugs, and more! Free shipping, satisfaction guaranteed! www.DecorateToday.com
Subscribe to USA Today and get four weeks FREE!
The nation's most comprehensive news coverage delivered to your door. www.USAToday.com
Get your History videos, DVDs & gifts here!
Own your favorite Biography or War videos. Wild West, Politics, and more! www.HistoryChanom


Your message could be here! Please contact us....


We hope you enjoy this site. We aim to update this site with a new feature each week so please keep visiting. If there is anything else you would like to see here, please let us know.