Poachers in South and Southern Africa are on the increase and their most prized booty and fauna and flora are rhino horns, tortoises, local flowers and plants and shellfish. In addition hunting safaris are on the increase and foreign hunters are lured by southern Africa's abundant wildlife, paying $50 000 for a hunt to obtain a prized trophy of a lion or other game.
The situation appears to be so bad that recently local newspapers labelled our national wildlife parks "killing fields" and wildlife organisations in the country are increasing security measures to protect conservation areas and their contents. It is believed that sophisticated rhino and other wildlife theft networks are in operation, using helicopters and trucks to "strip South Africa of its wildlife."
And increasingly people are appearing in court on charges of stealing white rhino and buffalo worth thousands of US dollars. Even giraffe have been stolen. According to SA National Parks CEO, Mavuso Msimang, poachers and thieves are stealing millions of South African rands in animal, plant and marine life from our "national treasury" of reserves.
"These unscrupulous people are attacking the economic fabric of our national tourism industry," he maintains. Msimang says most of the poaching inside Kruger is under control but that there are problems just outside its border with Limpopo, where "highly organised syndicates" are operating.
Elephants, illegal immigrants from Mozambique, flooding, and poachers rip huge holes in the park's western fences, he says, adding that he has seen evidence that many lions have been lured through these holes by foreign hunters. There have also been several reports of canned lion hunting over the last year.
In another illegal poaching incident late last year two Slovakians were arrested for having more than 100 angulate tortoises in their possession on the Cape West Coast. The two men were charged with illegal possession, collection and transport of 113 angulate tortoises, also known as rooipens skilpad on the West Coast.
A Lamberts Bay policeman, who spotted them allegedly loading the tortoises into a vehicle, arrested them after discovering 'a few suitcases full of tortoises'. It is believed South African tortoises are being illegally sold overseas for thousands of dollars. It is illegal to keep tortoises in South Africa without permits,and they may not be sold, collected or even given as gifts.
In addition there have been several cases of perlemoen, orchid and rhino horn poaching in South Africa. Perlemoen is an expensive South African seafood delicacy with a beautiful iridescent blue-green and bowl-like shell. Local police recently confiscated thousands of perlemoen in sacks or boxes, which were ready for export.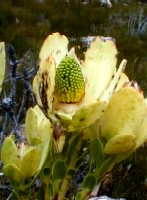 Then a German national was recently arrested and heavily fined for having prized local orchids in his possession illegally. Other plant thieves have also been brought to book.
A rare South African protea
In the Mpumalanga province of South Africa white rhinos, a key tourism drawcard, have had their DNA analysed and distributed worldwide to help protect against international poachers.
Individual identikit files for each rhino, including photographs, markings, life history and preferred habitat, are being made publicly available to conservationists and interested tourists on a Geographic Information System database that has been set up for the easy storage, retrieval and display of information.
Poachers who are convicted in South Africa face stiff fines or imprisonment terms for taking fauna or flora illegally.
Info references: Sapa and www.wildafrica.net