.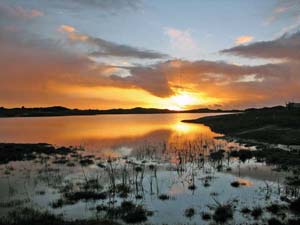 In an exclusive video, US golfing legend, Jack Nicklaus, has personally invited interested parties to visit St Francis Links Estate - "an exciting project", he says. The Estate, punted to be in 'South Africa's top 10', will open after the official christening on 11 December.

Jack is scheduled to fly out here for the grand opening ceremony and join many other golfing celebrities. Great excitement is already mounting ahead of the prestigious and monumental occasion that is sure to put St Francis Bay in the spotlight, and more firmly on the tourist map.

"St Francis Links is one of the finest golfing communities I have had the privilege to work on," says Jack, aka 'The Golden Bear'. "Not only from a golf prospective, but thanks to the detailed input by Mike Wiley (from WBHO), Robbie Marshall (Golf Data), Lionel Donnelly (Bay Estates) and their respective teams."

"I am extremely pleased with the way the golf course itself has turned out and it is a rare opportunity when you have a golf course which is built on a genuine dune field with north facing slopes and beautiful wild flowers of the Cape Flora Kingdom and dunes that wild game once roamed on more than 3000 years ago.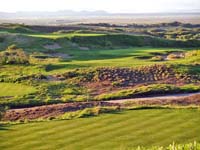 "People ask me what is the signature hole in St Francis and I really cannot say because every hole is so unique and equally spectacular," Jack maintains. "If we've done our job properly we should have 18 signatures and perhaps, I hope, one of the best and most highly regarded golf courses in the world."

"I hope you will join us in December for an early kick-off to your summer golf and to properly welcome St Francis to the fast growing golf landscape in South Africa," Jack adds.

The Links Club house: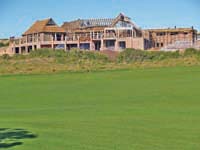 A golf estate clubhouse through its architecture and ambiance embodies the developers' vision and sets the standard for a development as a whole. The St Francis Links Clubhouse is set to inspire "confidence and pride in everyone associated with it, not least Jack Nicklaus, himself", say the developers.

Designed in keeping with the picturesque architecture of St Francis Bay with its distinctive thatched roofs and white walls, the St Francis Links Clubhouse takes advantage of its magnificent setting, commanding splendid wide, north-facing views over the course stretching to the Bay and beyond.

The developers envisage a causal, social atmosphere in comfort and luxury a place where members and their guests can relax and enjoy excellent amenities and service.

A covered portico at the entrance leads to the reception area with lounges on both sides extending to covered and open patios - a terrific spot for a 19th hole sundowner. On wintry days stone fire places will create a cosy atmosphere inside.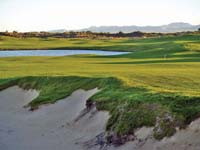 A 100-seater restaurant offers fine dining and the large bar will have its own food facilities; both will emphasise spectacular views with large doors opening onto Balau wooden decks. A large Pro shop on the south-eastern side of the building will stock all golfing equipment and paraphernalia.

The lower level will consist of superbly fitted and well-equipped change rooms, an events' office, a teenage room, parking facilities for more than 60 golf carts and a large covered patio, plus halfway house offering refreshments.

WBHO started construction of the Links Clubhouse at the end of last year and everything is proceeding smoothly, according to the developers.