Home
Articles
Headlines
Links
Feedback
Link to us
Free update
About us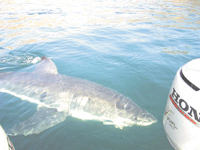 Fasie Malherbe from the quaint Port St Francis, St Francis Bay, in the Eastern Cape of South Africa, had the most unbelievable shark encounter recently. He was returning from a fishing expedition in Simon's Town , near Cape Town, with friends when this huge shark (seen above), about five meters in length, suddenly appeared and circled the boat for 20 minutes, intermittently trying to bite the propeller but fortunately not damaging it. Photo: Fasie Malherbe
However the 8.5-metre boat shuddered considerably with the force. "It was the biggest shark any of us (who had seen sharks before) had ever seen. It also kept rubbing itself against the side of the boat".
It is believed sharks follow boats because they expect food and they are used to boats and "chumming" - a practice by tour operators who pour a mixture of fish, oil and blood into the water to attract sharks so tourists can take photos. It's also been reported that chumming is now also happening in the surfers' paradise of Jeffrey's Bay in the Eastern Cape - where surfers come from all over the world to participate in surfing tournaments, particular in the Billabong Competition in July, and where people swim.
Mike Anderson-Reade, deputy chief executive of the Natal Sharks Board, has been reported as saying: "Sharks will always return to an area where they have previously found food. "If there is no food they will move on. Certainly we would advise against chumming. If stimulation (pouring the mixture into the water) takes place close to beaches where people swim, it would increase the likelihood of interaction between the sharks and swimmers. Chumming remains 'helluva' controversial," Mike maintains.
Meanwhile sharks in Cape Town have attacked surfers recently. A 16 year-old surfer, John Paul Andrew, lost most of his right leg during a shark attack about 100m off Surfer's Corner, at Cape Town's Muizenberg beach in April this year. He had been paddling back to shore at the time. This is the second shark attack in the Cape Peninsula in the past six months.
Surfers also stress that it is unnatural for sharks to follow boats and chumming makes it dangerous for them to surf. Gary Shearer of the Western Province Surfing Association says chumming boats that throw dead fish into the water so tourists can see sharks that breed in False Bay are making the sharks' swimming and feeding patterns change. "We are going to demand action by the local council to ban baiting sharks," he says. .
Sponsored by:
Travel For Less - anywhere, anytime - even last minute!
Great deals from leading airlines, hotels and car rental companies. Fast & Easy!
Decorating made easy! Lowest prices in the USA!
Blinds, wallpaper, lighting, rugs, and more! Free shipping, satisfaction guaranteed! www.DecorateToday.com
Subscribe to USA Today and get four weeks FREE!
The nation's most comprehensive news coverage delivered to your door. www.USAToday.com
Get your History videos, DVDs & gifts here!
Own your favorite Biography or War videos. Wild West, Politics, and more! www.HistoryChanom


Your message could be here! Please contact us....


We hope you enjoy this site. We aim to update this site with a new feature each week so please keep visiting. If there is anything else you would like to see here, please let us know.