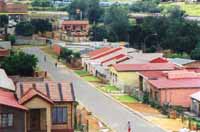 From an informal 'matchbox town' to a major metropolis for black people, Soweto is an urban, social and geographical curiosity. With its unusual beginnings Soweto is South Africa's largest urban settlement, known across the world as a symbol of people's heroic struggle against the oppression of apartheid.
Unlike other cities Soweto's urban geography did not develop organically but rather was determined by the bureaucracy of the previous Afrikaans nationalist government. In pre-democratic South Africa social class was defined by race and the history of Soweto is intricately interwoven with the mindset of that white minority government that for more than half a century chose 'divide and rule' and 'separate development for different races' policies over humanitarian ones.
These policies of territorial and political segregation were aimed at excluding blacks from power and keeping cities white. Soweto (a name derived from the acronym South Western Townships in 1963) was established in the vicinity of an original black location, Klipspruit (Stone River) around 22kms outside of Johannesburg.
From 1930 onwards, and particularly in the 1950s, a series of settlements arose, mostly created by black people with money who could afford to commute to Johannesburg. Soweto developed with row upon rows of identical dirt streets, radiating from a central hub. Numbered houses in nameless and treeless streets were packed close together on sites measuring 12 metres by 22 metres. They were built cheaply and left unplastered inside, with veldt grass as the floor, and were serviced by a bucket latrine, but without running water nor electricity. A water outlet (tap) was placed every 500 metres in the township.
This was the government's answer to providing 'adequate housing' for those people with a different colour skin. Ironically, the white nationalist policy of 'ethnic' separation led to the development of a strong community spirit and laid the foundations for today's democratic South Africa. In slum yards and school class rooms Black Consciousness mushroomed.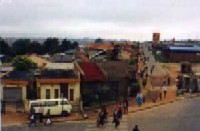 Times were harsh though for Sowetans. The first bitter experience and tragedy occurred at Sharpville - a massacre in 1960 when 71 anti-pass (curfew permit) demonstrators were killed and 180 wounded. This was followed by the banning of the African National Council (ANC), while a battery of new repressive laws outlawing political activity gave rise to the armed struggle.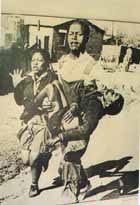 Painful years followed coupled with a tide of resistance, which swept through the townships. On June 16th 1976 - Soweto Day - police shot dead 11 year old schoolboy Hector Petersen who was part of a mass demonstration of schoolchildren chanting "p-o-w-e-r! p-o-w-e-r!" as they agitated against the use of Afrikaans as language of tuition in black schools.
Photo of Hector Petersen's body being carried down the street - by Peter Magubane, 1976
The clash was the most prolonged and violent confrontation between black protestors and the white government and by June 21, five days later, 130 people were dead and more than a thousand civilians injured.
A turning point in Soweto's history was the formation of the United Democratic Front (UDI) in 1983 to mobilise township dwellers in the struggle against apartheid. Toyi-toyi (street dancing with a political fervour) crowds were a familiar sight on the streets with people paying homage to Nelson Mandela and calling for his release from prison.
After 1985 the suffering of Sowetans increased with more emergency regulations imposed on townships countrywide. But united in solidarity the Sowetans embarked on a series of consumer boycott strategies with 'think before you spend' slogans.
They called for law and order and an end to white supremacy. And pamphlets distributed on the streets of Soweto informed people about six year-olds in prison, parents, teachers or students being tortured by police or in prison and killer troops 'terrorising people' in the township.
But then in April 1994 the moment of final celebration came when jubilant Sowetans flocked to polling booths and stood in long queues in dusty streets under the burning sun to cast their first democratic votes.
Today many inhabitants still remember the early days of Soweto when those who survived repression and violence created a vibrant, caring communal environment. In the words of African National Congress (ANC) leader Walter Sisulu (one of Nelson Mandela's fellow Robben Island prisoners): "Soweto refused to let its spirit die and that spirit contributed to the demise of apartheid".
Today Soweto is the centre of black urban culture and has a population of under two-million people, many of them living cheek-by-jowl in single floor, three roomed houses. Soweto has developed a strong cultural centre with its own urban culture as displayed in wire and bead, grass woven artefacts as well as in dress, fashion, leisure activities, domestic furnishing, social rituals, urban dialects and various musical styles.
Soweto offers several sight-seeing spots for tourists. The most frequented are: Hector Pieterson Memorial, Mandela's old house, Winnie Madikizela Mandela's house, Ubuntu Kraal, Chris Hani Baragwanath Hospital, Baragwanath taxi rank, squatter settlements, shebeens and night clubs.
It is mostly foreigners from around the world who come to visit this renowned township and witness the historic landmarks or to meet ordinary Sowetan citizens. Sadly,few white South Africans have ever visited Soweto and even today, very few express any interest in doing so.