Home
Articles
Headlines
Links
Feedback
Link to us
Free update
About us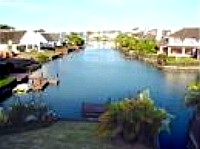 Surrounded by nature reserves with fabulous beaches, abundant bird life and fish is South Africa's best-kept secret in the Eastern Cape, St Francis Bay. This second most southerly tip of Africa, just south of Port Elizabeth, is a picturesque holiday resort, fast becoming a millionaires' playground, with those 'in the know' coming here to get away from the concrete jungles and the frenetic business world.
The bay comprising Port St Francis, St Francis Bay, Cape St Francis and Oyster Bay has magnificent white, gently sloping beaches, providing safe bathing and some of the finest rock and surf angling on the East Coast. The bay is also famous for its waves and is frequented by surfers from all over South Africa and overseas.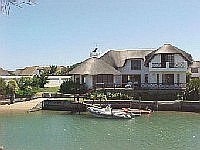 The quaint holiday village of St Francis lies nestled among the green clad dunes lining the Bay of St Francis on the Kromme Rive mouth. The Kromme River, navigable for 10 km, twists and winds its tranquil way down to a magnificent marina where grandiose white walled, thatched houses stretch along the canals, each having their own moorings so that plot holders can step from their holiday homes into boats to go fishing, yachting or boating on the wide Kromme. There are some stunning, luxurious houses and magnificent plots with sea views to be bought.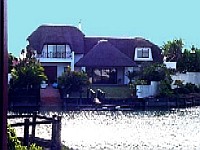 Around 50% of the village is constructed around this largest man made web of canals and waterways in Africa, dubbed 'Little Venice'. A main attraction is the magnificent game and fishing and during summer tunny, bonito and yellowtail can be caught here. One can also take canoe trips right up the river to an overnight campsite to catch fish along the way or view numerous species of birds, notably the fish eagle.
There are plenty of fish in the river and canal residents have even landed large fish from their garden lawns. The beaches, besides secure bathing, offer hobie cat sailing, wind surfing and rubber ducking, plus rock and surf angling, deep-sea fishing, yachting, speed boating, and 4x4 beach drives.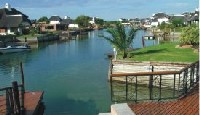 Abundant bird life, beautiful wild flowers, and spectacular hiking trails add to the splendour of the area. Wild life is abundant and visitors or landowners can take an hour-long trip on a cruiser, sipping cocktails as they experience South Africa's 'Little Venice'. Other cruises take in emerald coloured pools at Salt River, lighthouse excursions and visits to remote shipwrecks off the coast of the rustic village of Cape St Francis with its pristine nature reserves and famous 'surfer beach' at Seal Point, or the excellent diving and snorkelling spots along a 6km reef.
This region was inhabited thousands of years before the first Europeans settled in the area. Evidence that the earliest exploitation of the sea, in Africa, as a source of food, can be found at a cave about 20 kilometres west of Cape St Francis, dating between 125 000 to 70 000 years ago.
Further evidence of similarly aged deposits can be found in the vast inland dune systems in the vicinity of St Francis Bay and Oyster Bay. The Khoi people were Hottentot herders and inhabited the area some 1 700 years ago and introduced domesticated stock and pottery to the region. The San people were hunter-gatherers and occupied the area on a seasonal basis, exploiting the sea and the immediate inland environment. A San skeleton from Santareme Bay dates back to 5 180 years ago.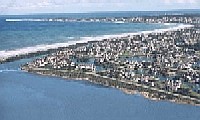 St Francis Bay was christened by a Portuguese explorer, Manuel de Perestrelo, in 1575 and was presumably named after a monastery, Sao Fransisca, in his native town of Santareme. There have been quite a few shipwrecks in the vicinity since 1840. The first building was the lighthouse on Seal Point in 1878, but in the early days there were no roads and access was mostly by boat. Ox wagons used to cross the Kromme River, although in times of floods the area was quite inaccessible.
About 25 years ago Leighton and Ann Hulett, members of the prominent Natal sugar cane family, acquired about 450 morgen of undeveloped beach and river fronting land, and set about improving the virtually non-existent access road and establishing a town, which they called Cape St Francis. They invested vast sums of money in developing a holiday resort on a tract of coastal land between Cape St Francis and the Kromme River mouth, along the area known today as St Francis Bay.
Today the area has many privately owned houses or fishing camps of single rondavels and suites. Plots are sold on which the owners build their own thatch roof houses, and the rondavels are let on a daily, weekly or monthly basis.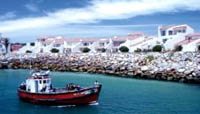 A Small Boat Harbour lies in a sheltered nook of the bay and provides a picturesque setting and safe anchorage for calamari boats, pleasure craft and ocean going yachts. In this spectacular 250m-harbour resort village development there is a harbour square with open markets, speciality shops, pubs, seafood restaurants and a yacht club.
This tiny Port St Francis is the first privately owned port in South Africa and many 'round the world' yachtsmen stop over on their travels. Water front homes are springing up around the harbour while more shops and a hotel are being developed. An airport nearby caters for those who wish to fly in.
The neighbouring little village of Oyster Bay offers a vast expanse of wild, deserted beach with gigantic sand dunes, many sea birds and marine life - a real get away from it all.
The stunning Cape Garden Route is on the St Francis Bay doorstep; offering enchanted inland valleys laden with citrus fruits, private game reserves and other holiday attractions.
If you would like to stake your claim in paradise, contact Bev by email who will put you in contact with some premier local estate agents. Read the latest news in the this area in the St Francis Chronicle, a free, monthly commmunity paper, for St Francis, Bay, Cape St Francis, Oyster Bay and Humansdorp.
Sponsored by:
Travel For Less - anywhere, anytime - even last minute!
Great deals from leading airlines, hotels and car rental companies. Fast & Easy!
Decorating made easy! Lowest prices in the USA!
Blinds, wallpaper, lighting, rugs, and more! Free shipping, satisfaction guaranteed! www.DecorateToday.com
Subscribe to USA Today and get four weeks FREE!
The nation's most comprehensive news coverage delivered to your door. www.USAToday.com
Get your History videos, DVDs & gifts here!
Own your favorite Biography or War videos. Wild West, Politics, and more! www.HistoryChannel.com


Your message could be here! Please contact us....


We hope you enjoy this site. We aim to update this site with a new feature each week so please keep visiting. If there is anything else you would like to see here, please let us know.
Read all the latest news of the St Francis area in the St Francis Chronicle, a free c, monthly community newspaper, for St Francis Bay, Cape St Francis, Oyster Bay and Humansdorp in the Eastern Cape.