Chumming, aka baiting of sharks, is happening right on our shorelines in St Francis Bay. Considered a great sport for fishermen to see who can catch the biggest shark, the practice occurred three weeks ago off Main Beach.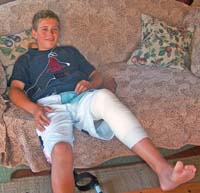 The following day, a Sunday, 15 year-old Stuart Duffin was attacked by a hungry ragged tooth shark and had to have 43 stitches. Now earlier calls to have coast guards in our area to prevent chumming and abalone poaching have been intensified.
Photo: Stuart Duffin, 15, recuperating at home in St Francis Bay after being attacked by a ragged tooth shark.
"Must we wait for someone to be eaten alive by a shark before this practise is banned here," commented one horrified resident. Another resident, Mickey Freund, was walking with her daughter that Saturday on Main beach and was rudely shouted at by fishermen from the Free State, who had taken over the whole seafront.
"They said we must go elsewhere to swim. We are now too frightened to swim there anyway." Although she believed it would be awful to have shark nets at St Francis Bay, something had to be done to prevent fishermen enticing sharks with bait, leaving bathers and surfers in danger of being killed when the sharks come back a day or two later looking for more meat..."
Stuart who recently moved down from Gauteng to St Francis Bay, was body boarding with his friend, Michael Elliot Murray, in chest high water. He had his board in front of him to catch the next wave when suddenly he felt a piercing pain and saw a ragged tooth shark, about 1.25 m, attacking his left leg.
Stuart decided to strike back and hit the shark on the nose which is said to be highly sensitive. He missed the nose and caught the shark's teeth, causing ragged tears on his hand. Nonplussed he struck again, found his target, and the shark to let him go.
Then Michael came to the rescue and pulled Stuart up by the arm out of the water, dragging him back to shore. His mother, Karen Hallam, arrived at that point and after washing his leg at the shower, rushed him to the doctor where he had 43 sticthes.
Asked to comment about chumming, Port Captain, Pieter van Rooyen, said if baiting of sharks occurs outside the harbour he has no jurisdiction to prevent the practice. "That weekend I saw a boat with a long line about a half mile from the Port entrance and sharks were being baited and caught.
"We approached the boat and asked the fishermen to desist. They refused as they said they had a permit. On phoning the authorities in PE, we were told to mind our own business as that boat indeed had a permit."
Van Rooyen says he would appreciate coast guards and the establishment of a Marine Management Coastal unit by the Department of Environmental Affairs. "We would assist this unit in every way possible," he added.