Home
Articles
Headlines
Links
Feedback
Link to us
Free update
About us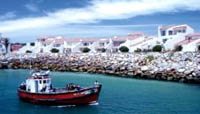 If you went down to Dock O' The Bay, in the tiny Port St Francis in the Eastern Cape of South Africa this month after 20h you would have been forgiven for thinking you had landed up in a French Pub. The place, almost nightly was alive with Frenchmen, French language, gestures et al. They were the French Crew from Galatée Films here to shoot an Imax movie about dolphins and sea birds.
Those of you who have seen an Imax film, know, of course, how great it is to watch a movie which grabs you in your seat and makes you dream... It does this with its kaleidoscope of visual effects and sounds which draw spectators right out of their chairs into the actions on screen, holding one's attention span, enrapt, for a full 100 minutes; all to the sounds of appropriate music, such as that of Bruno Coulais in the Imax movie, Winged Migration - an award-winning documentary about birds living on all seven of the continents (see photos of Canadian geese from the movie).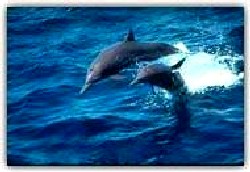 With that movie, French producer, Jacques Perrin, made us fly over the lands and seas, following migratory birds. Now, Perrin, producer of The Magic Carpet Ride, promises to do the same thing with his film on dolphins, shot right here in Kouga.
The dolphins and gannets are his chosen subjects in The Magic Carpet Ride, to be shown next year and only at the huge Futuroscope Amusement Park at Poitiers, France. Just as we were taken on the backs of the birds in Winged Migration we can expect to be taken on the backs of the dolphins and experience their life in the seas. Perrin's talent lies in giving his animals and birds a role to play, that of actors. The dolphins and gannets will no doubt play their role, but there will certainly be some improvisation in the final product on the big screen.
Perrin loves taking survival type movies and we can expect to see through the camera of Jacques Cluzeaud, a top French cinematic photographer, who was also at 'The Dock', that the film will cover the search for dolphins in the expansive oceans, the dangers they face, and their survival techniques, plus their cries of joy, of sadness and, perhaps, of fear too.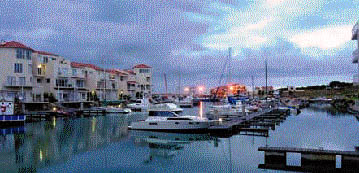 To get the footage Perrin's all-French film crew, divided into teams, descended on St Francis Bay, staying in a mansion at the Port. The Editor also interviewed French film crew member and PRO, Gérald Pasquale, who gave St Francis Chronicle a bit of an inside story. "Unfortunately there was no good footage to be had in St Francis," he recounted.
It was eight days down the line, when he told me this, and the crew was starting to display their Gallic irritation through some panic, that their sojourn in South Africa would have be in vain as they had not found a single school of dolphins yet. Not that they hadn't tried. They'd been to Saldahna to shoot some spinner dolphins and then to the Transkei, so lastly they tried St Francis Bay to capture bottle-nosed and common dolphins on film. They hired helicopters and searched the oceans and went out in boats - Gavin Ratcliffe's Wildcat, and Tim Christy's boat - but they only got birds and an isolated number of dolphins.
So they moved up the coast and on the second last day before their departure they found around 2500 dolphins at Van Staden's and the crew were ecstatic; they could fly off to France with their prized footage for The Magic Carpet Ride Ride, shot in 70mm (the huge size of the film means that each shot is bigger than a movie and is ideal for the Futuroscope screen, according to Gérald). Futuroscope, 400km south and 2 hours from Paris by the TGV super fast train, is a unique amusement park all devoted to image, audiovisual techniques and special effects. It opened in 1992 and has two screens, one in front and one beneath the feet, so you can view the bottom and front simultaneously.
Whatever, the final result of The Magic Carpet Ride is, it is bound to be simply fantastic, like two of Perrin's other films, focused on the natural world: The Monkey Folk (1989) and Microcosmos (1996), which is about insects. Viewers will be able to see the bottle nose and common dolphins jumping up from the floor at their feet onto the screen in front or vice versa, in a technique, dubbed "Entre le Ciel et la Mer" (between the sky and the sea).
The realist producer, Perrin, will no doubt seduce us with his ability to move our emotions in an indescribable and rare way through his projections on the big screen. We hope too, that one day soon, we will be able to witness the magnificence and magic at the same time from his The Magic Carpet Ride, which should fill spectators with immense happiness and pleasure. In an interview recently Perrin was quoted as saying his next movie would be about the oceans of the world and the many crimes that are committed against them by humans, and that the movie would not be just a nature film, but a political film as well. "Earth is not only our planet, it is inhabited by other living beings as well. We must protect nature and teach our children about it. No price can be placed on the value of many things in this world, " Perrin said.
Sponsored by:
Travel For Less - anywhere, anytime - even last minute!
Great deals from leading airlines, hotels and car rental companies. Fast & Easy!
Decorating made easy! Lowest prices in the USA!
Blinds, wallpaper, lighting, rugs, and more! Free shipping, satisfaction guaranteed! www.DecorateToday.com
Subscribe to USA Today and get four weeks FREE!
The nation's most comprehensive news coverage delivered to your door. www.USAToday.com
Get your History videos, DVDs & gifts here!
Own your favorite Biography or War videos. Wild West, Politics, and more! www.HistoryChanom


Your message could be here! Please contact us....


We hope you enjoy this site. We aim to update this site with a new feature each week so please keep visiting. If there is anything else you would like to see here, please let us know.