Home
Articles
Headlines
Links
Feedback
Link to us
Free update
About us

Fancy a safari in a new five-star, malaria-free private game reserve? Then head for Kwantu, set in the legendary Sidbury plains, 80kms from Port Elizabeth in the Eastern Cape of South Africa, offers five thousand hectares of unspoilt wild splendour where you can go bundu-bashing in style to see four of the Big Five (only the lions are missing), plus, giraffe, zebra, hippos and warthog, to name just a few; as well as be captivated by the lush African vegetation.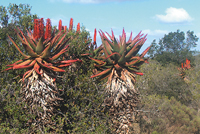 Owned by Yusuf Jeeva and family, Kwantu, meaning place of gathering, has five different types of biomes, above 200 different species of birds, and so much wildllife, charm and beauty. No wonder then that SA Wilderness Association chairman, Ian Player, has dubbed it the jewel of the Eastern Cape. Coast & Country Adventures, a tour-booking agent in the idyllic St Francis Bay arranges day trips to this African gem. You are welcomed in Port Elizabeth by the two Jeeva sons and driven in luxury Mercedes Kwantu shuttle buses to Kwantu, off the Grahamstown Road, and then traverse another 10km dirt road, past sheep farms, a small plane landing strip, before you alight at Kwantu's enormous parking bay.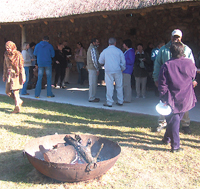 From there you hop into safari jeeps and are taken to the boma welcome reception - a thatched roof patio area where you have an Eastern liquid refreshment, made with lemonade, decaf coffee or herbal teas, plus several Eastern dainties to nibble on , such as samoosas, nougat, dry wors (sausage), mini pizzarettes and other tasty pastries. Yusuf, the host welcomes each guest to his enclave and gives a short history on the place, saying: "You are here as ambassadors of life to experience this lovely place and enjoy it".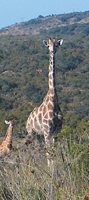 Then after a quick trip to the luxurious restrooms in the main complex to freshen up, everyone jumps into 11-seater jeeps, including the driver, for a three-hour game drive. On the day we went this month, we saw Gnu, (aka wildebeest), Burchell's Zebra, rhino, giraffe (a mother and her baby), Blesbok, red Hartebees, eles in the distance, Gemsbok, warthog and rhino, among our highlights of game spotted. There are two stops en route where for about 10 minutes one can stretch one's legs and have bottled water or a coke, and some sweets.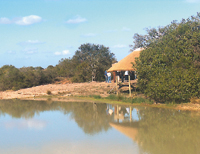 The one is at a cute waterhole, which is not yet inhabited by hippo or crocks, while the other is at the ruins of an old house dating back to 1830 and surrounded by exotic trees like jacaranda, blue gum and wild oak, the latter covered in glorious autumn shades of gold on our visit.
The trip takes one over grassy and bushy plains and then to the giant Jumbo valley where, you guessed it, the eles and leopard mostly live. This valley is covered in Euphorbia, cabbage trees, rhino bush and other African scrub. The route then takes one on the edge of a cliff overlooking the valley on extremely rocky ground, and I had to almost hang on for dear life so as not to fall out of the vehicle. We had a big, friendly warm-hearted Xhosa guy, named Absalom, as our driver/guide who told us funny anecdotes about the animals - such as, the one about wildebeest having maggots in their heads - "that's why they act crazy at times!", he says.
On return to Kwantu, one passes the old historical village of Sidbury that Yusuf actually purchased in its entirety, including the second oldest Anglican church in South Africa called St Peter's, plus a shop, a petrol station, two schools, a community hall, the 80-seater conference centre, three tennis courts and some quaint old houses with the "brookie-lace" fringes on the wide Victorian-style verandas. After freshening up once more you are led inside to the most stunning dining area overlooking the hippo pool. The place resembles an African gallery, with African objets d'art scattered around under thatch, with a divine patio next to the view of the pool.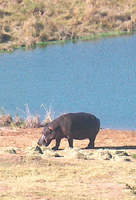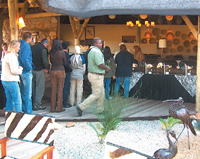 Then lunch is served up and as Ysusf and his family are devout Muslims, no alcohol is served; liquid refreshments such as grape and apple juice are on offer to accompany the divine curries, such as chicken tandoori, beef and the most divine lamb curry. Dessert is a selection of fine mini pastries and fruits. Next guests assemble outside at the welcome centre and watch a pageant by Xhosa staff, dressed in traditional garb, who act out the African custom of lobola, where a man has to offer a certain number of cows to the parents of his intended bride. This is followed by Xhosa dancing, whistling, shrieking and loud applause.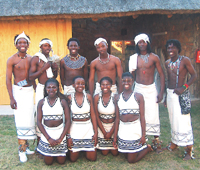 A final round of refreshments is offered followed by much shaking of hands, thanks and farewells, before you once again board the safari jeeps and head for the parking lot. You arrive home exhausted but completely exhilarated, having had a splendid day in the pollution-free natural outback.
Kwantu is currently constructing delightful luxury 5-star chalets overlooking the hippo pool where local and international guests can relax overnight in front of glorious fireplaces and view game from their balconies. Also to open soon is a wellness (health hydro).So for the an unspoilt retreat, to get away from it all, you'll hardly find better than Kwantu. (Note: there is also a shuttle service from St Francis Bay to PE).
.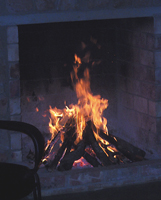 For bookings telephone: Kay on 27 42 294 1889
Copyright (C) Bev Mortimer. All rights strictly reserved
Sponsored by:
Travel For Less - anywhere, anytime - even last minute!
Great deals from leading airlines, hotels and car rental companies. Fast & Easy!
Decorating made easy! Lowest prices in the USA!
Blinds, wallpaper, lighting, rugs, and more! Free shipping, satisfaction guaranteed! www.DecorateToday.com
Subscribe to USA Today and get four weeks FREE!
The nation's most comprehensive news coverage delivered to your door. www.USAToday.com
Get your History videos, DVDs & gifts here!
Own your favorite Biography or War videos. Wild West, Politics, and more! www.HistoryChanom


Your message could be here! Please contact us....


We hope you enjoy this site. We aim to update this site with a new feature each week so please keep visiting. If there is anything else you would like to see here, please let us know.