The idyllic, once peaceful upmarket village of St Francis Bay in the Eastern Cape of South Africa, which turns 50 years old next year, is undergoing a rapid and major facelift. Currently developments to the tune of almost R1000-million are currently happening or imminent in this once dormant seaside resort (out of season).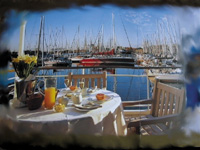 Firstly at its tiny private port, Port St Francis, R155m accommodation developments are on the go, plus a new R4.5-million port supermarket with shops is on the rise; then a R15-million shopping centre will be built in the village in 2004, plus plans are afoot for yet another huge supermarket complex elsewhere in the area sometime next year - all of which tally an impressive sum.
But that's not all. There is the intended new R500m golf course estate with 400 houses that has attracted the interest of top Isle of Man financiers; industrial developments, including an upmarket car dealer, and controversial cement factory on the outskirts; plus a harbour type village planned on the currently unspoilt upper part of the Kromme River that becomes the 'Little Venice" of St Francis Bay canals at the Indian Ocean mouth.

The port holiday accommodation developments include The Ship's Bell, Fore Royal, The Upperdeck, Otter's Retreat and Le Nautic. Not surprisingly, moorings at this quaint port are selling at a frantic rate. Phase I of the R20-million Ship's Bell, marketed by Port St Francis Estates, has been completed on target a week before Christmas day. Local and foreign buyers snapped up all units in this first phase - R5.75 million worth of units (R1-million each for the two penthouses) were bought in the first few weeks of going on the market. These units are currently being let to holidaymakers.

This boutique-type hotel is intended to be fully operational by Easter next year and to have three-star specification. It will also have a restaurant, a rim swimming pool, a gym, and a conference hall seating 250 people. The units in Fore Royal, an accommodation development that will contain seven luxurious units overlooking a private beach, are being marketed at R2.2m - R2.6m each. The less expensive Upperdeck will be uniformly furnished to enable owners to get maximum return from group bookings and will be completed by May next year.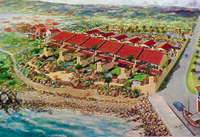 Meanwhile the R20-million Otter's Retreat, scheduled for completion by June, will have R350 000 spent on landscaping alone and with its indigenous trees and large fringed-palms it is destined to have a Mediterranean look. Each of these six 'upmarket and high class three-bed units', to quote Lionel Donnelly of Bay Estates, and one of the owners, will have an undercover barbecue area, a rim pool, double garages, carports and guest parking bays. Two of the units are being marketed at around R4-million each. The three-bed roomed classy apartments, dubbed " villas" of Le Nautic (aka le nautique in French) are already being marketed in the UK and by local estate agents. The apartments are expected to fetch around R2-million each.
Then in the municipal area of St Francis Bay there will be the new shopping complex, plus an upgraded Caltex garage and 24-hour convenience store by December next year. This centre will comprise a new upgraded supermarket, plus 12 line-shops feeding off the anchor, flatlets to meet the huge demand for residential accommodation by business people, and offices to reduce this latter shortage as well.
On the other side of the entrances to St Francis Bay, two portions of land straddling the Sand River and its stunning dune system are about to be turned into a unique, unspoilt, secluded nature reserve and into a private resort. And people can now buy a piece of the nature reserve for R250 000. The private resort comprising 24 chalets with swimming pool, tennis court and stables will be developed at the Bush Pig (Boma) in the east.
Permission for this latter project has received the approval of the Department of Economic Affairs, Environment and Tourism after a required Environmental Impact Assessment. It is believed there will be minimal impact on the natural vegetation as the developed area including services will amount to approximately 5% of the area.
As for the golf course, an international company, based in the Isle of Man, has expressed interest in developing a "signature" Links (Golf) Course, which will be associated with a further 18 Links courses around the world, to which future purchasers in the St Francis Course will have reciprocal membership.
And last but not least, the former 'sleepy hollow' village shopping centre has undergone a multi-million Rand revamp and has been dubbed "the amphitheatre" with all its new shops in a semi circle on a square.
And while pro-developers are smiling, others who came here to get away from the rat race and have peace and quiet in an unspoilt haven are shaking their heads in disbelief, while yet others are looking around for another pristine equivalent to the erstwhile St Francis Bay elsewhere in southern Africa to escape to.