HomeArticles
Headlines
Links
Feedback
Link to us
Free update
St Francis ForumHeadlines
Links
Feedback
Link to us
Free update
About us

The St Francis Chronicle is a free, independent, monthly publication for a beautiful area in the Eastern Cape.. Its readers are landowners, highly successful business people, laboureers, owners of luxury holiday homes or quaint Dutch-style thatch-roofed cottages, plus online readers in South Africa, Germany, the UK, US and Europe.
St Francis Chronicle aims to be 'a chronicle of events of daily life' as it occurs around us in this area, bringing to the fore, hard and controversial news, environmental news, sport, a bit of travel, and lots of social and fun news.
The newspaper is distributed widely in idyllic St Francis Bay, Cape St Francis, Oyster Bay, Humansdorp and parts of Port Elizabeth. It is also posted on subscription to an increasing subscriber base of holiday home owners countrywide in South Africa and Botswana.
Stop Press!! The latest news:
St Francis Chronicle now has a new 'News Website':
http:// stfrancischronicle.com
(Updated daily, plus hourly or every 20 minutes in times of crisis, like floods, fires etc...)
Stop The Press: Latest Edition!!!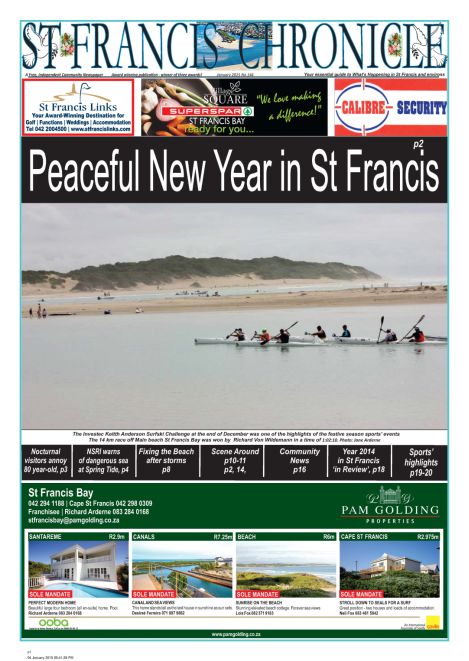 Read the latest edition of St Francis Chronicle:
January 2015
Read more news on St Francis at: http://stfrancischronicle.com
-
sy
Sponsored by:

We hope you enjoy this site. We aim to update this site with a new feature each week so please keep visiting. If there is anything else you would like to see here, please let us know.