Nuclear power plant in St Francis area
by Bev Mortimer
The Greater St Francis area has been named as the preferred site for South Africa's latest nuclear plant.
Thyspunt Eskom planning officers have already decided they want Thypsunt to be the site of choice for the next nuclear powerstation according to a 2008 Eskom (the power utility corporation) report, plus the lastest Environmental report from South Africa's evnronmental department also has named the tiny enclave of Thyspunt near Oyster Bay as the best site.
And amid fears expressed that Thyspunt being chosen could already be a fait accompli, a call has been made to have fiercer opposition, for everyone to band together to protect their investments here by taking effective action to stop this happening on our doorsteps – opposition equal to the strong stance being taken right now by antagonists to prevent Bantamsklip being chosen as a site, plus that taken by KANG in 1999.
Objections to a nuclear-1 plant being built near St Francis are increasing.
South Africa's Biggest New Year's party
by Bev Mortimer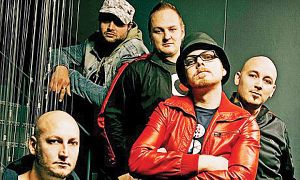 Despite attempts to have the national Ruins event, South Africa's biggest New Year's Eve party, banned in St Francis Bay, the party is going ahead as planned at the Yard with national marketing, including radio and press advertising already on the go. Top musicians and bands have been signed up, including Prime Circle, for this event that will attract at least 5000 youngsters from all over South Africa to this Eastern Cape holiday town.
African Penguins are starving
by Bev Mortimer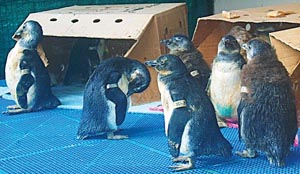 In a life saving mission 18 starving baby penguins were removed from St Croix island near Port Elizabeth last month and delivered to the Penguin EC Rehabilitation centre at the Cape St Francis Lighthouse.
The penguins were extremely undernourished and underweight through lack of food.
St Francis Links Golf Estate Opens December 2006
by Bev Mortimer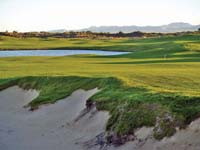 In In an exclusive video, US golfing legend, Jack Nicklaus, has personally invited interested parties to visit St Francis Links Estate - "an exciting project", he says. The Estate, punted to be in South Africa top 10, will open after the official christening on 11 December.
Jack is scheduled to fly out here for the grand opening ceremony and join many other golfing celebrities. Great excitement is already mounting ahead of the prestigious and monumental occasion that is sure to put St Francis Bay in the spotlight, and more firmly on the tourist map.
Chumming In St Francis
by Bev Mortimer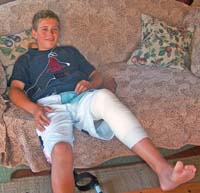 Chumming, aka baiting of sharks, is happening right on our shorelines in St Francis Bay. Considered a great sport for fishermen to see who can catch the biggest shark, the practice occurred three weeks ago off Main Beach. The following day, a Sunday, 15 year-old Stuart Duffin was attacked by a hungry ragged tooth shark and had to have 43 stitches. Now earlier calls to have coast guards in our area to prevent chumming and abalone poaching have been intensified
Sheep Dog And Rock Rabbit At War
by Bev Mortimer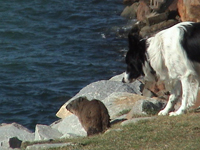 A fierce resident rock rabbit (aka 'dassie' in South African English) and an English sheepdog are continually at war, having 'staring out competitions almost daily. The rock rabbit lives on the rocks at Port St Francis, St Francis Bay,on the Eastern Cape Coast .
British Yachtsman Lost At Sea
by Bev Mortimer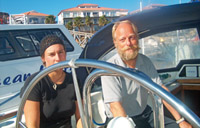 A British yachtsman fell overboard his yacht in the Indian Ocean off Cape St Francis, South Africa, in stormy weather recently. His body hasn't been found.
Shark Alive at St Francis Bay
by Bev Mortimer
A fisherman caught a live shark on the beach last month in St Francis Bay. It was an exciting spectacle...
Lake Malawi...under a Malawian Moon
by Les Gutsche. (Edited by Bev Mortimer)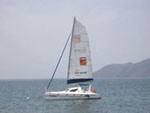 If you enjoy the Indian Ocean Islands as a holiday destination I urge you to consider a trip to Malawi....
A two-hour flight out of Johannesburg, Blantyre is very much a potpourri of Africa. High rise buildings surrounded by colourful African markets selling absolutely everything from the top 20 CDs to a freshly slaughtered chicken!! As with most African cities a cacophony of sound greets you, along with a very friendly, relaxed population.

Fur Flies Over Lighthouse Penguins
by Bev Mortimer
The proposal to have a penguin rehabilitation centre at the Seal Point Lighthouse in Cape St Francis in the Eastern Cape of South Africa has caused a storm of controversy. The major boiling point is over penguin droppings and effluent being disposed or spilling into the wetlands and damaging the environment. And to stir things up a couple of radical individuals have allegedly used scare tactics by arguing that if the effluent lands in the sea it will attract sharks and place surfers lives at risk. Moreover, there are fears of excessive demand for fresh water when the whole area faces water restrictions over the forthcoming festive season.
Kwantu - the jewel of the Eastern Cape
by Bev Mortimer

Fancy a safari in a new five-star, malaria-free private game reserve? Kwantu, set in the legendary Sidbury plains, 80kms from Port Elizabeth in the Eastern Cape of South Africa, offers five thousand hectares of unspoilt wild splendour where you can go bundu bashing in style to see four of the Big Five (only the lions are missing), plus, giraffe, zebra, hippos and warthog, to name just a few; as well as be captivated by the lush African vegetation.
Jaws Alive
by Bev Mortimer

Fasie Malherbe from the quaint Port St Francis, St Francis Bay, in the Eastern Cape of South Africa, had the most unbelievable shark encounter recently. He was returning from a fishing expedition in Simon's Town, near Cape Town, with friends when this huge shark (seen above), about five meters in length, suddenly appeared and circled the boat for 20 minutes, intermittently trying to bite the propeller but fortunately not damaging it. However the 8.5-metre boat shuddered considerably with the force.
It's all systems go for R1.5-billion golf estate
by Bev Mortimer

Development of the R1.5-billion St Francis Links, the prestigious golf estate for St Francis Bay, in the Eastern Cape of South Africa, is forging ahead with its driving partners aiming to create one of the 'best golf estates'. This golf estate is set to rival, if not surpass, the likes of Fancourt and other top golfing estates worldwide and will be designed to attract this planet's top golfers.
St Francis Bay Shows Explosive Growth
by Bev Mortimer

The idyllic, once peaceful upmarket village of St Francis Bay in the Eastern Cape of South Africa, which turns 50 years old next year, is undergoing a rapid and major facelift. Currently developments to the tune of almost R1000-million are currently happening or imminent in this once dormant seaside resort (out of season).